What We're All About
We are committed to providing convenient, reliable, and enjoyable passenger service.  We strive to maintain the friendly, down-to-earth atmosphere that's been a part of False Creek Ferries ever since we launched.  We're proud of our ferry system.  We've spent nearly 40 years building and improving it, and we're looking forward to celebrating our 40th anniversary in 2022.
False Creek Ferry Ballet
The epic, incredible & death-defying False Creek Ferry ballet! The False Creek Ferry skippers have been performing a choreographed 'ferry ballet' show on Canada Day & fireworks nights for well over thirty years. Figure eights, crossovers & starbursts are only a sample of the crews' acrobatic repertoire. Come check the ballet out at these times:
Canada Day:
July 1st, 7:30 – 9:30 am along False Creek.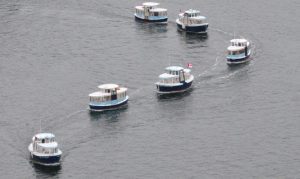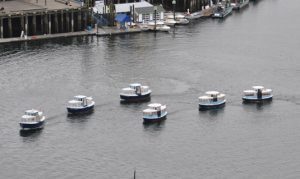 Quite possibly The Best Job in Vancouver
If you have customer service experience & know how to handle a small boat, we want to hear from you!
JOIN OUR TEAM